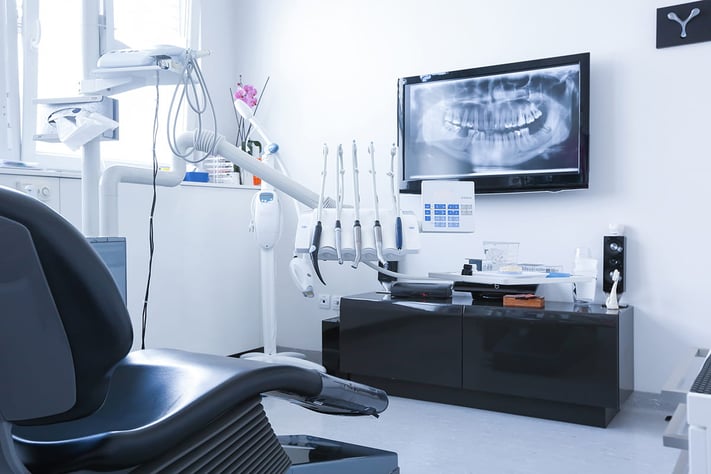 Is your dental practice taking full advantage of technology — or are you just making do with what you have? From treatment technology to information technology and even the office equipment that your front desk team uses, here are six ways the right type of technology can help grow your dental practice.
More efficiency means more patient appointments.

Outdated hardware and software slow everything down. If the technology you rely on to run your business is down, you run the risk of losing patients' trust and overall credibility - not to mention revenue. Without current X-ray technology, for example, you may have to redo X-rays over and over to get them right, annoying patients and stressing your staff out. Updating your practice so that all your tech tools work seamlessly together will streamline treatments and help you get patients in and out of chairs faster. It will help patients refer. It will ensure your business keep humming along with new patient appointments.
It helps educate patients on treatments they need.

Have you ever had a patient put off a serious treatment for years, like a cavity? 62% of patients put off serious treatments simply because they are not educated on the importance of the treatment, the next steps, or the impacts.

Dental practices that use high resolution cameras and LCD screens to educate patients on treatments they need find they are more successful with encouraging patient to schedule in a return appointment and take care of the problem immediately. Educating patients is now a responsibility for dentists - and finding a technology partner that can help you leverage technology to do this effectively is the first step.
Your staff members are enabled to drive new business.

When equipment isn't functioning properly or technology that adds unnecessary effort to processes, your staff can't focus on the patient experience. Helping patients make new appointments, confirm existing appointments, suggesting follow up appointments- these tasks are all essential to recurring revenue. Having an outsourced resource that can be held accountable 100% for technology can free up your front desk staff and ensure your practice is focused on the patient.
Your patients, and your reputation, is protected. Outdated software and poor cybersecurity practices can put your patients' personal health data at risk of being stolen — and put your practice at risk of noncompliance with HIPAA regulations. You should never skimp on technology that provides security for your office's networks, computers and devices. If your dental practice suffers a breach, like many do, you will not only have to pay enormous unexpected fees, but your patients will never trust your practice with their personal information again.
It makes your practice more profitable.

You may be leery of investing in expensive new technology for fear it will hurt the bottom line. However, if you run the numbers and consider the increased efficiency that new technology can bring to your office, you will generally see that the return on investment in new technology will happen sooner than you think. Working with a technology partner that provides quarterly ROI reports can help you determine just how much to invest in technology on a regular basis.
It improves patient response and show up rate.

Up-to-date technology

software helps ensure that patients never miss an appointment. Communication apps can track when patients are due for hygiene appointments, send them automatic reminders about upcoming appointments, and even contact dormant patients to get them back in the office. Plus, you can communicate with patients by email, text or voice — however they prefer. You could be missing out on new and recurring patient appointments simply because you didn't follow up. Working with a technology partner can help set up these tools so your staff can automate patient communication.